The spring season calls for changes after the fall of leaves and everything turning new. A fresh beautiful hair colour transformation is one of the finest methods to change the way you appear. These popular autumn hair colours are the ideal source of inspiration for your next trip to the salon. We've included many looks for each popular hue because each shade can appear differently on different hair types and textures. In this article, you will come across some amazing Hair Color Trends To Do In 2023 that will make you fall in love with them. 
Natural Chocolate Brown Colour
Enjoy a lovely chocolate tone this fall. Each skin tone and hair type may benefit from the natural chocolate colour's harmonious combination of cool and rich. Consider going completely dark brunette or adding a hint of chocolate with a subtle balayage. Whichever you decide, this rich chocolate tone is a must-have for the current season. 
Dark Chocolate Brown Colour
In fall, go darker with a striking dark chocolate brown tone. This dark brown shade gives naturally brunette hair depth. Dark chocolate hues are ideal for the fall and winter months, whether you desire smooth and rich colour or soft toffee lowlights. Such a shade will make your brunette appearance glossier than before.
Copper-coloured hair is one of the most popular trends this year and looks especially lovely in the fall. While a basic auburn style is always a good choice, this season's striking red colour is this rich, warm tone. Copper has a variety of tones that enable it to stand out on all different types and textures of hair.
Use Caramel Balayage if you're searching for a wonderful technique to give your brunette hair depth. By skillfully blending warm and bright tones into darker hair, this hair colour process creates a rich, multi-dimensional look that is ideal for fall. If you're searching for a low-maintenance approach to refresh your hair colour this season, balayage is a great option. To get soft, natural growth without any obvious regrowth lines, hair colour is combined with your root hair colour using the Balayage process.
The ideal blonde for every season! For brunettes trying to go lighter or blondes searching for a more seasonally appropriate hue, this warm, subdued blonde is ideal. The golden blonde colour adds dimension to all hair types by combining warm-hued highlights with chocolate lowlights.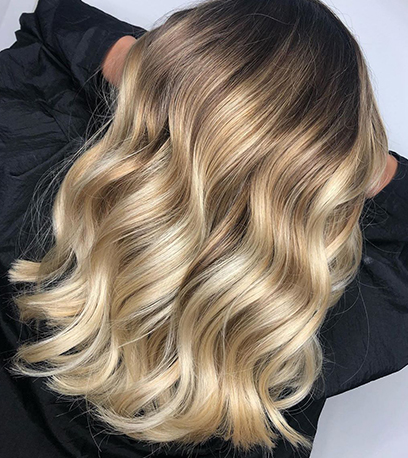 It's crucial to consider colour contrast when going for a minimal upkeep style! To put it another way, it's crucial to compare your natural base tone to any highlights or lowlights. When contrasted with a darker root, a warm honey blonde like the one in the image above looks stunning and gives the hair a truly natural-looking brightness. Make sure your hairdresser divides the highlights into greater parts than usual if your hair is curly. This is because when your hair curls, some areas of the colour may seem lighter or duller. 
Gingerbread Colour Highlights 
Regarding fall colour trends, warm reds and copper tones are somewhat dated, but this season's interpretation of them is different. Soft brown meets red is increasingly prevalent in this season's popular red tones. These gingerbread-caramel tones may provide a warm, rich richness to any base tone. Keep your roots natural and maintain the colour of your ends or face-framing portions the same if you want to rock this style! Even in the gloomiest months, a little warmth in your hair may keep your complexion shining! 
Thank you For Reading! 
These were the Seven perfect Hair Color Trends To Do In 2023, to more information visit Trendiem.