Every conceivable shade and tone of blue hair, including dark-navy hues, barely perceptible tints, and blue ombre. Nevertheless, it is understandable why blue hair is so in right now: Because it is so adjustable, almost anyone can wear it. Going cooler or warmer to match your skin tone, or tiptoeing into the look with a sheer at-home colour gloss. Nevertheless, just in case you thought blue hair is for you, we have curated a list of beautiful and adorable Blue Hair Colour Ideas. 
Much of blue may be not your thing. To give your hair additional depth without making it feel too blue. Ask your colourist for some deep-purple undertones. By incorporating a purple shampoo and conditioner into your wash regimen, you may even play up the purple tones even more.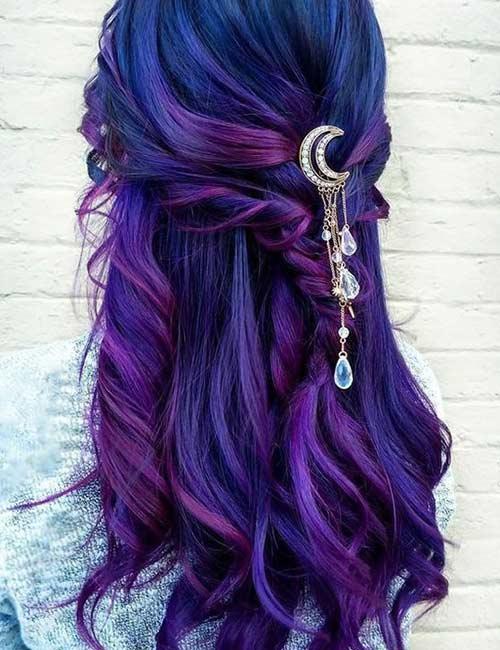 Just saying, but to me, the dark denim roots are the perfect representation of a winter hair colour. To get the colour to show up, you'll need to bleach your roots if you have dark-brown or black hair to start, but to maintain your hair healthy, simply make sure to massage a moisturising scalp serum into your roots three times a week. 
In essence, a pastel-blue foundation is an ideal background for a rainbow hair colour. Because it has just the right amount of depth to let each cotton candy colour pop out in contrast. You can count it as the perfect blue of summer.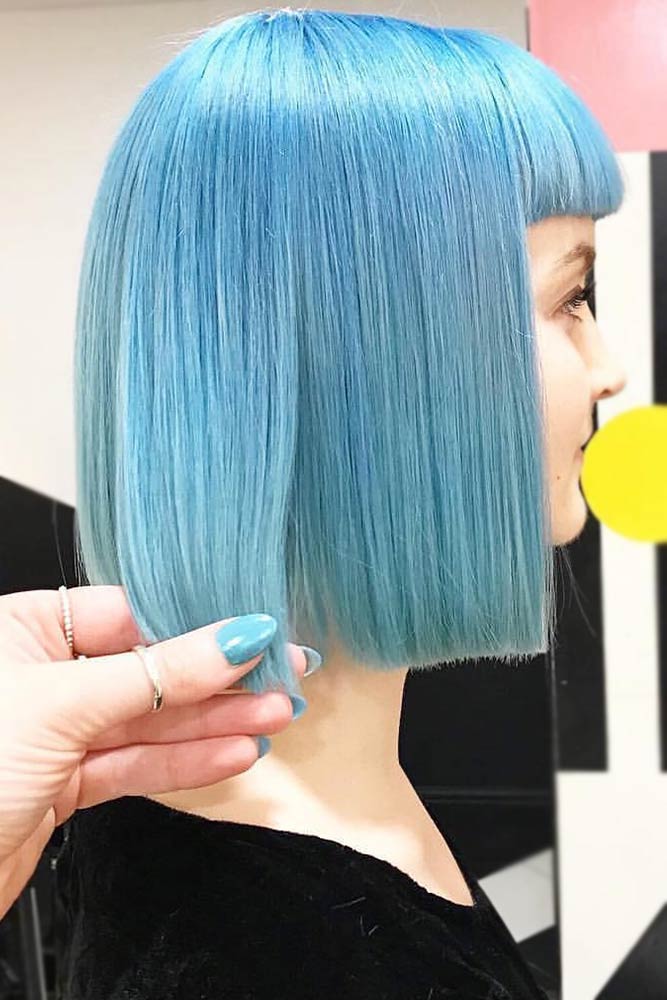 Unable to choose between a few blue hues? Why not combine them all, like this super-cool hue that perfectly transitions from navy to teal to a brighter aqua? You may depend on this combination to make your waves or curls appear fuller and more defined.
This hue has a wide range of turquoise tones, giving your hair a tonne of texture and intrigue even after it eventually starts to fade. But, it will be required to play mixologist to get the ideal harmony between green and blue tones, so be sure to request from your stylist a whole spectrum of blue greens, even some emerald-green tones. 
Be aware that your hair only has to be elevated to a pale blonde first for the blue pigment to truly shine to get this vivid teal. Hence, bleached. Just remember to use plenty of conditioners afterwards or choose a deep-conditioning in-salon treatment like hair botox.
Use a semi-permanent hair colour in a vivid blue tint if you want a blue hair colour without having to visit the salon. To achieve a vivid blue shade without using bleach, use a temporary hair colour wax, which is especially kind to curly hair types. Indeed, this will show up best on light-toned hair and seem more like a tint on dark-toned hair.
Not prepared for a complete dye job? The dip-dyed ends are for you. They are simple to grow out also you can simply cut them off when you're done with them. But be aware that getting this baby-blue tone requires bleaching your ends, which isn't exactly kind to your ends unless you have light-coloured hair. So after your colour treatment, be sure to thoroughly soak them in a high-protein deep conditioner.
The contrast between the glossy, voluminous waves and this vivid, comic book-like blue ombre. But before using hot tools on coloured hair, be sure to spray on a heat protectant. Curling irons and flat irons can lift your colour and cause it to look dull and fade more quickly.
These were the top seven Blue Hair Colour Ideas you must give a try. For more information on hair, and colouring ideas visit us at Trendiem.