Wedding outfit Check, makeup check, jewelry check, hairstyle double cross-check. Just as important as your attire and cosmetics choices are your bridal hairdo. The type of bridal hairstyle you select for your wedding festivities should be a deliberate choice because a dress paired with a different hairdo can completely affect the look. Thus, to guarantee that your bridal hairdo completely complements your wedding-day outfits. The bridesmaid can adorn many bridal hairstyles. Therefore, when you are the bride, ensure your hairstyle stands out. 
We have mentioned the 10 Top Wedding Hairstyles For Long Hair 2023: 
Bubble Braid
The beautiful bubble braid can look magical, with shining stones randomly scattered all over the hair. For this hairstyle, the bride should have hair length upto the waist, and else the hairdo would not look that prettier. The done hair looks so much prettier. Also, you would not require many clippings. 
Rose Like Bun
Having long hair is all about flaunting them, but how in a bun hairdo? Here it is. Boast the length of your beautiful long hair by twisting and styling them into a flower shape. The rose-like structure of the bun, when decorated with natural flowers, will make everyone gaze at you. 
Half Braided Hair
This bridal hairdo might inspire brides who prefer to wear their hair open. The thick hair is kept partially down and semi-braided, and flowers are used to make further the hairdo appear mesmerizing. To make the hairstyle more flawless, you can get it added with some stone accessories. 
Sectioned Braids
Some brides want a seamless hairdo that is simple yet unique. The nonpareil sectioned braids are one of a kind. This hairdo has bubble-braided hair that is partially open, and it is finished with tiny golden pins. To get a more magical touch, grace the style with white lilies. 
Pastel Flower Hairdo
Usually, the pastel color attires go well with this hairstyle. Even wearing a dark shade, you can look beautiful, and the side front doubles dutch braid in a tied bun. The bun is decorated with pastel-hued flowers and gives a fairly-like look to your personality. 
Cross Section Braid
Want to make your hair look more voluminous? If yes, then this cross-section braid hairdo will do the best for you. The hairstyle is stunning and intricate, and this cross-sectional bridal braid will captivate everyone. Again, your hair length should be more than average to get complete closure to this hairstyle. 
Free Open Hair 
Let them be free and natural if you don't want your hair tied in a braid or bun. Many of us don't know how beautifully a bride can gracefully pull off such a hairdo. Add a dark red natural rose flower at the back to beat the simplicity.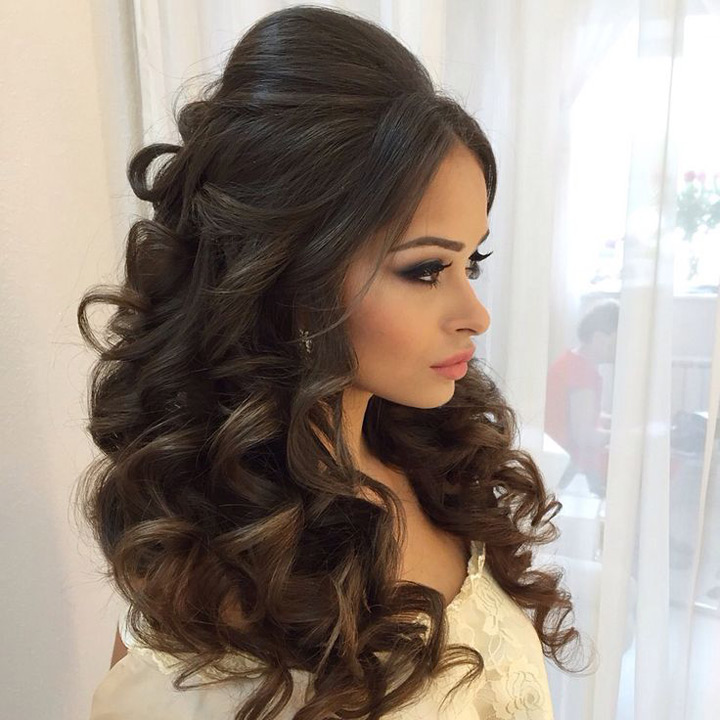 Dramatic Long Braid
This loosely braided hairdo highlights the volume and length of traditional hair, which is a perfect choice for brides worldwide. For a more dramatic surfacing, put on matching accessories similar to the color of your attire. 
Waterfall Braid
This princess-like, huge waterfall braid is styled so elegantly with fresh flowers. When the beautiful white veil is over your hair, the translucently visible waterfall braid will appear as if a fairy has arrived on the earth with flowers. 
Neat Bun With Faux Flowers
In love with flowers; how about covering the entire hairdo with flowers? Ask your stylist to create a neat bun with look flicks at the front. Now garland the bun with white faux flowers that will give a cascading look to your hair. 
We hope you like the Top Wedding Hairstyles For Long Hair 2023. To read more, Trendiem is the right place for you.